Scenes from the Revolution
"Scenes from the Revolution" tells the story of the American Revolution through a series of musical numbers and historical scenes from the Boston Tea Party to the signing of Declaration of Independence.
It also explores the struggle for freedom and self-determination through songs such as, "Pass It On," "One If By Land" and "The Whigs and the Tories." "The Letter" and "The Promise" are powerful and emotive songs that highlight the sacrifices made.
This engaging musical – with ten scenes and ten songs – provides a unique perspective on the American Revolution and is a wonderful way to learn about this pivotal period in American history.
Music, lyrics and book were written by Aline Shader in 1974-75 for her students at Bowen Elementary School in Newton Centre, MA to enhance their understanding of the American Revolution and to celebrate the Bicentennial in 1976.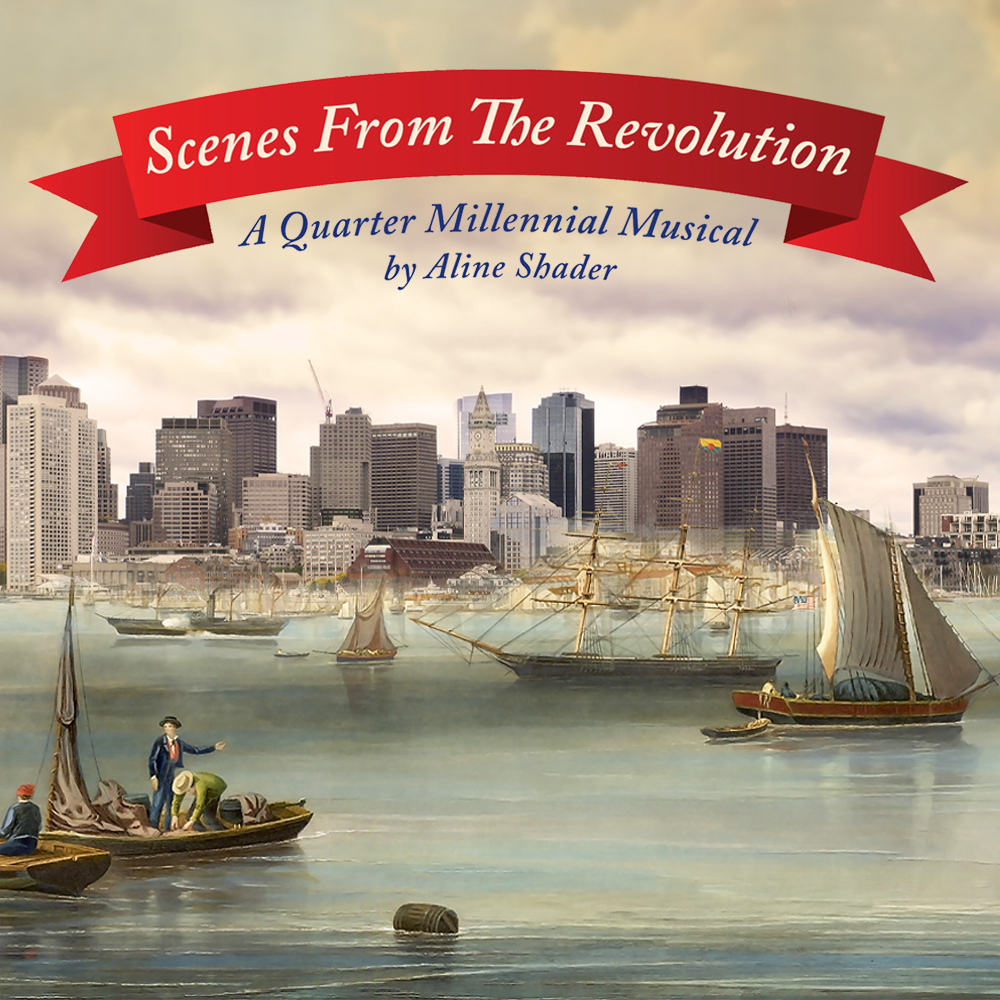 Rephotography by Mark Hersch
Songs Children Sing offers this and all resources
on the website free-of-charge and without restriction.
This (85mb) .Zip file contains:
1 x Full Script (1 PDF)
10 x Lyric Sheets (1 PDF)
10 x Lead Sheets (1 PDF)
10 x Full Scores (1 PDF)
10 x Full Audio Files (MP3 Format)
10 x Piano Audio Files (MP3 Format)
This (48mb) .Zip file contains:
13 x Part-forward Audio Files (MP3 Format)
Ideal for groups of up to 35
Grades 5 – 8
"Scenes from the Revolution" can be performed as a fully staged production, semi-staged, select scenes, as a sing-through with narration or as individual songs
Assignable speaking roles for group scenes, for example:


Colonist 1:




Representative 2:




Civilian 3:




Speaker 4:

Occasional sound effects needed (a knock, a bang…)
Have You Heard the Terrible News?
Early 1773 – Colonists taking matters into their own hands
     

Pass It On
The Boston Tea Party


Cat's Cradle
A family scene, playing a family game
     

The Whigs and the Tories
Meeting of First Continental Congress
     

One If By Land
Paul Revere's ride

–

a square dance!


Mothers
Sung by the youngest generation recognizing their mother's strengths and changes to come
     

Wouldn't It Be Better
Benjamin Franklin's inventions
     

The Letter
Sung in the voice of a young soldier headed for the battle field
     

The Promise
A ballad of sacrifice and hope after the Battle of Breed's Hill


They've Come to Put Their Name on the Line
The signing of the Declaration of Independence 1776
Scene 1
– Boston, early December, 1773
                     
Scene 2
– Boston Harbor, later in December, 1773
                          
Scene 3
– A home in Boston, July 1774
                
Scene 4
– Philadelphia, September 1774
Scene 5
– Boston, April, 1775
           
Scene 6
– A home in Boston, later in April, 1775
           
Scene 7
– Benjamin Franklin's home, Philadelphia, May, 1775
Scene 8
– A training field near Boston, later in May, 1775
                        
Scene 9
– After the Battle of Breed's Hill, June, 1775
Scene 10
– Philadelphia, July, 1776
"Scenes from the Revolution"
Music, lyrics and book by Aline Shader (1975)
Vocals:
Enya Lim, Ryan Mancini and Gill Scott
Piano:
Dan Nimmer
Mix Engineer:
Alex Leiva
Transcriptions:
Jonathan Kelly
Script layout:
Maegan Kelly
Producer:
Jenny Hersch